Presentations
Globodera Resistance Development
The Role of Gene Enrichment in Mapping the H2 Nematode Resistance Gene in Tetraploid Potato
Presented at PCN Mini-Symposium hosted by GLOBAL at PAA 2018 Annual Meeting, July 2018
---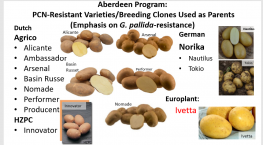 Use of Molecular Markers for Breeding PCN Resistance in the Russet Market Class
PDF Presented at PCN Mini-Symposium hosted by GLOBAL at PAA 2018, Boise, Idaho
---
Introgression of Globodera Resistance into the Russet Market Class
Potato varieties commercially available with Globodera pallida resistance typically have round tubers making them unsuitable for western U.S. producers, where the focus is on long tuber shape and russet skin. Hybridizations have been conducted between Globodera-resistant breeding clones and varieties to russet-skinned breeding clones and varieties suitable for production in the western U.S. Sources of Globodera resistance being utilized in hybridization efforts, the use of marker assisted selection, and progress in developing russet-skinned germplasm having long tuber shape with resistance to the three Globodera species are described. 
Presented at PCN Mini-Symposium hosted by GLOBAL at PAA 2018 Annual Meeting, July 2018
---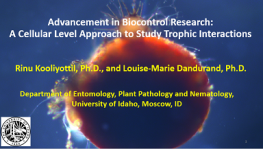 Advancement in Biocontrol Research: A Cellular Level Approach to Study Trophic Interactions
PDF Presented at SON Conference, Williamsburg, Virginia, August 16, 2017.
---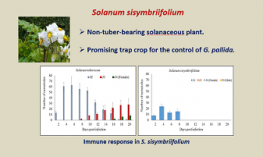 Early Infection Transcriptome Analysis of Globodera pallida Infected in the Susceptible Solanum tuberosum and Resistant Solanum sisymbriifolium
---
Developing PCN resistance in U.S. potato cultivars
Presented at the 49th Annual Idaho Potato Conference, January 2017.
---
Developing Potatoes with Board Spectrum Resistance to Globodera
Presented July 19, 2016 at SON/ONTA, Montreal, Canada
---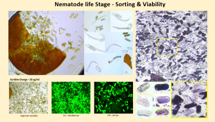 Flow cytometric sorting of nematode life stages & Phytochemicals on PCN hatching
PDF Syamkumar Sivasankara Pillai presented at GLOBAL Genomics Workshop, Corvallis, Oregon, March 13, 2019.
---