Presentations
Globodera in the U.S.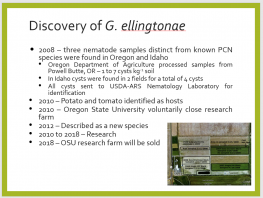 10 Years of Globodera ellingtonae: Current state of knowledge
Presented March 2019, for Globodera Alliance Genomic Workshop, Oregon State University, Corvallis, OR
---
Potato Cyst Nematode Eradication and Containment in the U.S. / Nematodo Quiste de Papa Erradicación y Contención de Nematodos en los Estados Unidos: Éxitos y Luchas
PDF Presented by Louise-Marie Dandurand at the 50th ONTA Annual Meeting, Arequipa, Peru. August 20, 2018.  
---
Molecular Strategies to Combat Pale Cyst Nematode in Potato
Identification of PCN effectors that can be used to find nematode resistant genes in litchi tomato (Solanum sisymbriifolium), and the potential transfer of these resistance genes to vulnerable potatoes is discussed.  
Presented by Rachel Gross at PCN Mini-Symposium hosted by GLOBAL at PAA 2018, Boise, Idaho
---
Nematodo del quiste pálido: Biología, distribución y control
2017 Congreso de la Papa, Idaho. los Estados Unidos
---
Current State of Globodera Infestations in the U.S.
An overview of 3 Globodera infestations in the U.S. and a 5-year research project underway to understand population genetics of Globodera and develop resistance in U.S. potatoes to Globodera rostochiensis and G. pallida.
Presented at the SON/ONTA Conference, Montreal, Canada, July 2016.
---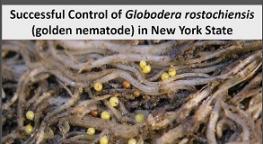 Successful Control of Globodera rostochiensis (golden nematode) in New York State
An overview of the methods used - including quarantine, regulatory activities, and the development of resistant potato varieties - to control G. rostochiensis in Upstate New York. 
PDF Presented at the 48th Annual Idaho Potato Conference, January 2016.
---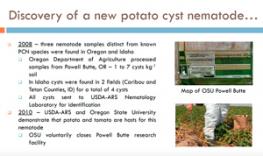 Update on Globodera ellingtonae
An overview of what scientists know about the newly identified potato cyst nematode G. ellingtonae.
PDF Presented at the 48th Annual Idaho Potato Conference, January 2016.
---
Pale Cyst Nematode Project
An overview of PCN infestation in the U.S. and related phytosanitary measures and research findings. 
Presented at the 49th Annual Idaho Potato Conference, January 2017
---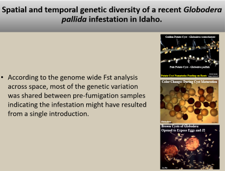 Spatial and temporal genetic diversity of a recent Globodera pallida infestation in Idaho
PDF Presented by Sulochana Wasala at the GLOBAL Genomics Workshop, Corvallis, Oregon, March 11, 2019.
---
Globodera Resistance Development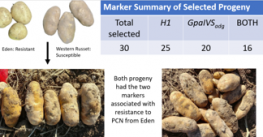 GLOBAL Project: Breeding objectives
PDF Jonathan Whitworth presented at GLOBAL Project meeting, Moscow, Idaho, Oct. 23, 2019.
---