Presentations
Globodera Resistance Development
Characterization of Glutathione S-Transferase and Superoxide Dismutase from the Potato Cyst Nematode Globodera pallida.
Study of enzymes found in Globodera pallida that protect it from the plant defense response and might provide insights into possible novel control methods for this pest.
---
Exploration of Wild Potato Species for Novel Resistance against the Potato Cyst Nematode Globodera rostochiensis
A virulent pathotype, Ro2, has emerged which threatens the success of Globodera rostochiensis control due to the lack of commercially-acceptable resistant cultivars that can be planted on Ro2-invested fields. Cultivars resistant to Ro2 are urgently needed in New York nematode control program. Work to identify novel resistance against PCN, drawing on the U.S. Potato Genebank's collection of wild potato species, is discussed. 
Presented at PCN Mini-Symposium hosted by GLOBAL at PAA 2018 Annual Meeting, July 2018
---
Globodera pallida RHA1B effector is an E3 ubiquitin ligase that promotes virulence by degrading plant resistance proteins
The development of the long-term biotrophic relationship between Globodera pallida and its host, potato, heavily relies on effector proteins injected into host cells though stylet to suppress plant innate immunity. Here, we report a comprehensive study of novel nematode effector, GpRHA1B, which effectively blocks the defense-related programmed cell death (PCD) triggered by multiple resistant proteins. GpRHA1B is a RING-type E3 ubiquitin ligase that utilizes its enzymatic activity to overturn plant immunity though targeting import defense-related proteins for degradation.
Presented at PCN Mini-Symposium hosted by GLOBAL at PAA 2018 Annual Meeting, July 2018
---
Introgression of Globodera Resistance into the Russet Market Class
Potato varieties commercially available with Globodera pallida resistance typically have round tubers making them unsuitable for western U.S. producers, where the focus is on long tuber shape and russet skin. Hybridizations have been conducted between Globodera-resistant breeding clones and varieties to russet-skinned breeding clones and varieties suitable for production in the western U.S. Sources of Globodera resistance being utilized in hybridization efforts, the use of marker assisted selection, and progress in developing russet-skinned germplasm having long tuber shape with resistance to the three Globodera species are described. 
Presented at PCN Mini-Symposium hosted by GLOBAL at PAA 2018 Annual Meeting, July 2018
---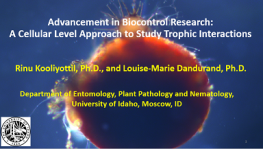 Advancement in Biocontrol Research: A Cellular Level Approach to Study Trophic Interactions
PDF Presented at SON Conference, Williamsburg, Virginia, August 16, 2017.
---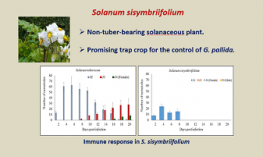 Early Infection Transcriptome Analysis of Globodera pallida Infected in the Susceptible Solanum tuberosum and Resistant Solanum sisymbriifolium
---
Developing PCN resistance in U.S. potato cultivars
Presented at the 49th Annual Idaho Potato Conference, January 2017.
---
Developing Potatoes with Board Spectrum Resistance to Globodera
Presented July 19, 2016 at SON/ONTA, Montreal, Canada
---